Traveling Abroad With Your Baby
April 30, 2012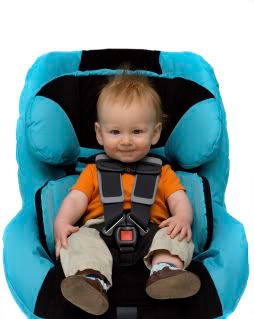 If making a trip across town with a small child seems like a daunting task, imagine making a trip halfway across the world. For many parents, the thought of traveling internationally with an infant is not only intimidating, but downright terrifying.  Even if you were a seasoned traveler before, traveling with a baby changes the entire game. The good news is, many parents have attempted overseas travel with their children in tow with great success.  The key is having a plan.
Travel Insurance
One lesson parenthood teaches us is that if something unexpected can happen, chances are it will.  Kids become ill at the most inopportune times and if you are thousands of miles away from home, this can quickly escalate into a scary situation.  Check your current medical coverage to see if it covers international travel and medical repatriation should someone in your party become seriously ill during your trip.  If not, be sure to purchase travel insurance that covers medical expenses, evacuations, and the cost of your trip due to cancellation.
Child Restraint Systems
When traveling with a child under two years of age, check your airline's policy on traveling with infants.  Many airlines will allow children under two to travel for free on an adult's lap.  On international flights, you may be required to pay a small fee, a percentage of an adult fare ticket, and/or applicable taxes.  While this could save money, it may not be worth it in the long run.  During long flights lasting more than several hours, the stress of having to hold your baby the entire time may leave both of you frazzled by the end of the trip.  In addition, because of safety reasons such as severe turbulence or a crash, the Federal Aviation Administration (FAA) strongly encourages parents to purchase a seat for their child and use an FAA-approved child restraint system (CSR) or an FAA-approved harness restraint.
Getting Through Security
Trying to maneuver your way through security can often be the most stressful part of the trip.  The Transportation Security Administration (TSA) is required to screen everyone that goes through a security checkpoint, even babies.  First, arrive at the airport early, allowing yourself plenty of time.   Have one person designated as the ticket holder and keep everyone's tickets and passports together.  Remember, when traveling internationally everyone, including your child, must have a passport.  If one parent is traveling with a child alone, they must have a notarized letter of consent from the other parent.
Consider investing in a stroller that is lightweight (for international flights, strollers must be less than 15 pounds), easy to carry, and can be opened with one hand.  This item can be checked at the gate before you board and will be waiting for you when you disembark the plane.  Children must be removed from their carrier or stroller and these items must be placed on the belt to be x-rayed.    All carry-on items such as diaper bags, blankets, and stuffed animals must also go through the x-ray machine.  TSA does allow parents to bring formula, breast milk, and juice through the checkpoint as long as you separate these items from other liquids you are carrying, tell the security officer that you have these items, and allow additional inspection if needed.  If you still have concerns, check out TSA's website for more tips on traveling with children.
What to Pack
A carry-on packed with essential items can be a lifesaver.  Make sure your bag is easy to carry and adheres to the airline's size and weight regulations.  Keeping your bag well-organized will also make it easy to reach in and grab a necessary item, such as:
Baby wipes and diapers – pack at least 1 diaper per hour for every hour you will be traveling plus a few extra in the event of a delay.
Disposable diaper pads – you may run into a situation where the only place available to change your baby is on a dirty floor.
Comfort items such as pacifiers or a favorite toy.
Sippy cups or bottle
Finger foods if your child is able to feed themselves.
Extra change of clothes – Accidents will happen.  It's a wise idea to pack at least three sets of clothes for both you and baby in your carry on.
Over-the-counter medication – these items a permissible through security as long as they are   three ounces or less and packed in a resealable plastic bag.
Blankets – you have no control over how hot or cold the airplane will be.  Blankets can also draped over your child's CRS to block out light while sleeping.
Toys – whatever you bring has to entertain for the duration of the trip, so try to introduce each item one at a time.