Transportation Center
August 19, 2008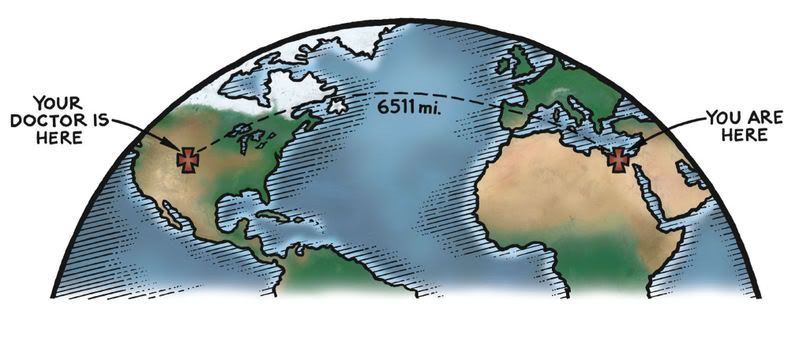 By: Roy Berger, MedjetAssist President/CEO
That collective sigh of relief you just heard is the MedjetAssist transport operations department taking a deep breath.~  Whew, July has finally ended as the busiest transport month in the 10+ year history of the present Medjet ownership-management team.
While our transport records are proprietary, trust me when I tell you there were many sleepless nights and hours of telephone calls and consults during the month just past.  In fact you can find a partial listing of transport city pairs in the chart below.
The Medjet transport team is headed by VP/COO John Gobbels who brings years of practical air-medical transport experience to our organization and in fact joined Medjet from STAT MedEvac, the air-medical transport arm of the renowned University of Pittsburgh Medical Center (UPMC).  John is joined at Medjet by Director of Transport Operations Jeff Sayers, who also came from the UPMC organization.  The Birmingham transport administrative team is composed of Whitney Kerr, April Jeff and Mona Roy.  And of course the package is neatly filled out by our communications center staff and our physician group at the University of Pittsburgh Medical Center, as well as the University of Alabama Birmingham's own Dr. Chris Rosko, our Medical Director.
Don't take my word for the experience, expertise and 'bedside' manner of our professional staff.  We can produce letter after letter of testimony on what a great job our professionals did for our members!  And frankly, that's what our business is about.
Don't misunderstand.  Statistics will show that a very large percentage of us who travel will go on with our journey and arrive home safely, that of course is our goal.  Then there are others that have a minor scrape or perhaps a jittery stomach or the like who will phone us for a recommendation or two.  We are glad to help.
Then we have our share of members who indeed wind up hospitalized, in-patient status and put us on alert.  A good majority are released a day or two later and continue their journey or head home.  They are needless to say thrilled to be back on their feet!
Then there is the group- never larger than this past July- that for either medical or accident reasons will need to avail themselves of the Medjet service.  Remember, transport criteria is in-patient to in-patient.  You must be admitted at least 150 miles from home and then require in-patient status back at your home hospital or hospital of your choice.  Once that criteria is met our team of transport professionals truly drop whatever they are doing at the moment and focus on your case. Safety and comfort become our priority.  Let's hope you never get there but if you do I'm sure you will share the pride in our team that I do!
So as we concluded July- which not so coincidentally is also the busiest travel month of the year- make sure you take a look below at some of our transport city pairs.  And remember – we are here for you- our member.  Sick, injured or hospitalized – we await your phone call.  On the road, away from home and a bit under the weather? Just need some reassurance or perhaps a medical center recommendation – be happy to help.  Just give us a call~
Travel safe.  However, if you need anything – down to the smallest travel tip or piece of advice, we stand ready to help. That's what your membership is all about!
Roy Berger, President/CEO
July 2008 City Pair Sample
| | |
| --- | --- |
| | |
| Aspen, CO | Philadelphia, PA |
| Cannes, France | San Francisco, CA |
| Ashville, NC | Los Angeles, CA |
| St Vincents Isl. | Denver, CO |
| Duluth, MN | Maineville, OH |
| Albuquerque, NM | New York City, NY |
| San Juan, PR | Benito, TX |
| Calgary, Alberta | Highland Park, IL |
| Aspen, CO | Houston, TX |
| Berlin, Germany | San Diego, CA |
| Rochester, MN | New York City, NY |
| Durban, SA | Boston, MA |
| Las Vegas, NV | Pendleton, OR |
| Soldotna, AK | Co. Springs, CO |
| Jacksonville, FL | Clearwater, FL |
| Liverpool, UK | Naperville, IL |
| Lennox Hill, NY | White Plains, NY |