The Express Train Called Digital Media
November 02, 2009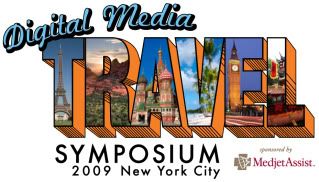 Did you ever have the feeling the train left the station and there is no way you can ever catch-up to it? Even if you hop on the next one, the first one will always be out front.
Welcome to my world on the evening of October 15 just past. The site was the Sony Wonder Center on Madison Avenue in midtown New York and the event was the inaugural Digital Media Bloggers Symposium presented and hosted by MedjetAssist.
In the weeks leading up to the event I had no idea why I would attend except for the obvious reason. As president of the host company I gave the welcoming address. However, I was told to keep my remarks to less than 140 characters. I still don't understand what that means and if you do then you should have had my seat at the event.
I don't read blogs (except of course for Medjet's World Wide Will~). I don't Twitter. I can't "tweet." Not sure I understand the concept anyway. I still read daily newspapers. Three hard copies everyday and another six or seven online first thing in the morning.  I am in a battle of survival with newspapers. The clock is ticking on both of us and sadly for an industry where I earned my degree and is still a passion, I'm determined to be the last one standing. I hate that for print journalism.
By all accounts of those in the digital media realm the symposium was a success. Almost 60 attendees braved a miserable cold, rainy and windy New York night to attend. The room holds 70 and we had about 75 RSVP's that said yes. A turnout of 60 was incredible considering the elements.
The panel was solid. Adrien Glover of TravelandLeisure.com; Janelle Nanos of National Geographic Traveler's blog; Michael Yessis of the Travel Channel; John 'Johnny Jet' DiScala; Everett Potter of Everett Potter.com and Rudy Maxa of Rudy Maxa's World.
For the next 100 minutes or so there was a steady exchange between the panelists and those in the audience. They were speaking a language very comfortable and familiar to themselves and incredibly foreign to me and a couple of others that got to the train late.
Need travel information anywhere in the world? You used to have to go to a newspaper or perhaps a guide book and ferret through for yourself. No longer. There are over a million blogs in the cyber world that can tell you anything and everything about hotels, restaurants, museums, attractions, native customs, security tips and you name it, you can find it.
I sat and listened in awe. As a guy who prides himself on being in the know and pretty well read, there's an express train that is so far ahead of me right now I couldn't catch it if I wanted to.
The most amazing thing to me was when one of the panelists recalled he was recently in London and looking for a good Thai restaurant. If it was me I would probably have had my Frommer's guide in tow or more realistically gone down and spoken to the hotel concierge. I learned how "yesterday" that approach is.
Said travel blogger sent out a 'tweet' to all his followers looking for a recommendation and said within five minutes he had 30-40 suggestions. He had dinner at the one most mentioned. Said it was a great dining experience. Incredible what the digital media has done to our world!
I felt so "yesterday."  But not to worry, I left the symposium and after about 10 minutes finally found a pay phone. Called the wife. Told her I would be home in about half an hour. Fix me a nice Harvey Wallbanger and, yes, a Swanson's TV dinner would be fine (Roast Turkey not Salisbury Steak please). Pop in that Simon & Garfunkle 8-Trak I love and make sure my transistor radio has new batteries!
What channel is Ozzie & Harriet on?
Safe travels.