The Benefits of Medjet Membership
January 30, 2011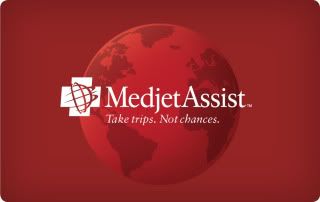 By: John Gobbels – VP, MedjetAssist
Whether you are a member of AAA, AARP, a musical fan club group, an airline affinity program or MedjetAssist, the benefits of membership are clearly defined.
AAA or the many auto club variations will normally send a tow when your vehicle is down and out to get it back running, or give it a lift into a repair shop. AARP, a specialized advocacy group, provides a host of consumer discounts as perks of membership along with representing the best interests of their members in Washington D.C. and respective state capitols.
Musical fan clubs normally give you access to concert tickets and merchandise before the public at large; airline affinity programs accrue miles for later redemption. The list of membership programs goes on.
All member benefits are clearly stated in the programs rules and regulations that always accompany your membership materials or can be found on the respective Web sites.
This brings us to your MedjetAssist membership. As a member of our program the meat and potatoes of what we do is emergency medical transport when criteria is met. That criteria is our member must be hospitalized 150 miles or more from home, either internationally or domestically, and be admitted as an in-patient on the receiving end. No strings attached. In-patient to in-patient. All arrangements for transport must be made by us. The cost for such a benefit is reasonable beyond question (if nothing else for peace of mind) or certainly in the case of needing the service!
What your membership does not entitle you to is an airplane at your disposal upon demand. Frankly, just because you phone and tell us you or a family member is ill in your hotel room and you need an airplane launched in the next 30 minutes is unfortunately going to lead to some hard feelings. If truly that is your need then we hope you belong to one of the fractional air programs that can accommodate your demands but we rather doubt you will get satisfaction with a 30 minute timeline mandate either.
Also because you need to get home from a trip early for either illness, change in plans or boredom we don't drop everything we are doing and work with your air carrier to amend your plans. That's not what we do just as I wouldn't expect my State Farm agent to make arrangements for my car to be serviced at a dealership. Your personalized travel agent/consultant does airline liaison for a livelihood and we trust that they would be your first call.
Granted the large percentage of our Medjet members have a complete understanding of our program.  A few don't and we get requests such as these much more often than you might think.  We certainly understand during stressful situations that sometimes your frame of reason tends to be a bit cloudy and we ask our members to understand exactly what your Medjet membership offers.
Obviously to do what we do needs a series of checks and balances in place. When transport criteria is met the benefit becomes seamless.  We arrange bedside to bedside transportation, which normally means an air-ambulance from your referring hospital to your home airport and the ambulance transport to your receiving hospital. It's a complete bed to bed service.
We work with the University of Pittsburgh Medical Center along with your attending physician to determine safety and best means of transport when required. That can mean anything from a private air ambulance to upgraded commercial cabin with a commercial medical escort. UPMC is a world leader in aviation medicine and we take a great deal of comfort in their ultimate recommendation.
For obvious reasons we can't launch an aircraft or make emergent commercial arrangements without completely knowing and understanding our members medical needs which dictates staffing needs for your continued health and welfare. This is why your membership requires inpatient status so truly an educated decision can be based on your needs. It wouldn't be safe or prudent any other way.
Additionally, the transport process when put into motion is seamless for our members as we handle all costs and paperwork. Nothing to file or be reimbursed. A benefit of membership as we are not insurance nor do you/we have to go through the typical insurance claim processes.
Additionally more times than not it is determined that your hospital stay will be much shorter than perhaps anticipated and full release from a medical center will allow our members to resume their journey. That is almost always greeted with a huge sigh of relief and satisfaction.
So as we begin a new year which hopefully will be rich once again with travel, please be cognizant of what your MedjetAssist benefits provides or more importantly doesn't offer.   We want to be able to provide service for you when needed and really don't want to provoke hard feelings when you expect something that frankly is not an entitlement nor be taking attention away from a member in need.
We stand proudly behind our product and our service. We are very humbled to have you as a member.
We don't want to have our offering and extremely attractive price point compromised by misunderstanding.
If you need us, call us.  If you aren't sure of your benefit or need some advice either before you leave home or while you are on your journey we also welcome your call.  We stand proud on our record to provide service and advice.
Safe travels and a great 2011!