Medjet Update: Don't Hit the Road Without Us – Motorcycle Protection
March 30, 2012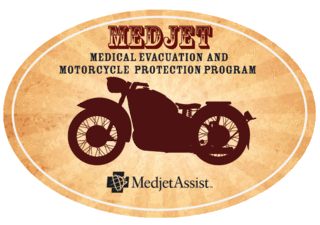 By: John Gobbels
MedjetAssist VP/COO
Motorcycle Misconception
It's that time of year again where we see more motorcycles on the road and more people planning and taking scenic long distance journeys on them.
For years Medjet has provided a special program specifically tailored for its members who ride. The Medjet Motorcycle Protection Program was developed for riders by riders and provides peace of mind if you travel while enjoying the open road.
Each year I receive many questions about the program so I figured it was time to just review some of the important features of this special membership option. The program is available as an upgrade to any of our membership programs at an additional cost of only $35. Having this upgrade will ensure safe transfer of your motorcycle back to the shop or dealership of choice in the unfortunate event of an accident or illness during your travels.
And, you don't have to have a motorcycle accident to receive the benefits. Unfortunately, some members become ill or injured while on their journey just like traveling on a cruise ship or international vacation. So what happens to your bike if you have to be medically transferred home and your bike is thousands of miles away? With the Medjet Motorcycle Protection Program, if you are injured or ill and cannot complete your journey, Medjet will arrange transfer of your bike back to your shop or dealership of choice even if your illness or injury is not related to a motorcycle crash or accident.
Another misconception is that if I have a crash and the bike is not drivable, but I'm not injured I can't get my bike home. Wrong again! If you sustain a crash and are not injured but your bike is not drivable, Medjet will arrange transfer of your bike back to your shop or dealership of choice for repair.
This special program is available for riders in the United States, Canada and Mexico and can be added to any of our programs including Short Term Memberships for only $35. Don't forget to have a way to get you AND your bike back home… Pack the Medjet card in your saddle bag and don't leave home without us.