Hands, Baggage, Identification Please – More TSA Procedures On Your Next Flight
February 27, 2010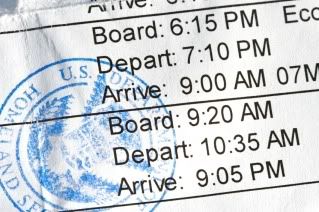 By John Gobbels, Medjet VP/COO
While making a business trip to Washington, D.C. this week I noticed that some passengers were having their hands and luggage swabbed even before having their identification checked. Several fellow passengers in the security line were also commenting on the new procedures and had many questions so I'll just take a few minutes and give everyone an update on this new process.
It seems that the Transportation Security Administration (TSA) announced on February 17, 2010 that it is expanding the random use of Explosive Trace Detection (ETD) technology at airports nationwide as an additional layer of security.
Since the Christmas Day failed attack, the TSA has increased its random use of ETD technology within security checkpoints to screen passengers' hands and carry-on luggage. In addition, TSA piloted the use of ETD technology in both the checkpoint queue and boarding areas for two weeks at Raleigh-Durham International Airport, Hartsfield-Jackson Atlanta International Airport, Orlando International Airport, and Pitt-Greenville and Coastal Carolina Regional Airports in North Carolina.
Passengers can now expect to see the increased random use of ETD technology in areas where TSA currently conducts screening such as the security checkpoint, as well as in the checkpoint queue and boarding areas. Officers may swab a piece of luggage or passengers' hands, then use ETD technology to test for explosives. The swab is placed inside the ETD unit which analyzes the content for the presence of potential explosive residue. To ensure the health of travelers, screening swabs are disposed of after each use. Since it will be used on a random basis, passengers should not expect to see the same thing at every airport or each time they travel.
http://www.tsa.gov/blog/2010/02/explosive-trace-detection-usage.html
www.tsa.gov