Barefoot on Namibia's Giant Sand Dunes
January 03, 2014
Hiking Mountainous Dunes in Namib-Naukluft Park
As the sun beat down on the Namib Desert, my bare feet began to burn, and I raced for the crest of the massive dune. Crossing the top quickly, I shot down the shaded side of the hill and plunged my legs into the orange sand.
As if I was dipping hot feet into a mountain lake, I felt cool comfort envelope my toes and ankles, and then my calf. In a controlled slide, I descended, amazed at the drastic temperature change just a few inches below the sand's surface.
I had been walking barefoot because heaps of sand had seeped through the mesh of my hiking shoes and compacted between layers of fabric, causing the hikers to feel two sizes too small. It's something I simply hadn't expected. But I was gradually learning that Namibia was full of surprises.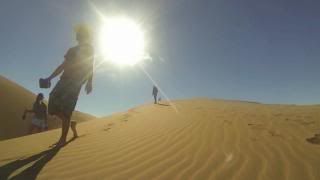 Before this trip, whenever I dreamed of visiting Africa, I imagined vast savannahs of golden grass, and creeping rivers teeming with hippos. But here in Namibia, on the southwest flank of the continent, the landscape is largely desert. In the first days of our Africa trip, we hiked across fields of pale green scrub interrupted by low hills of rust-colored sand. Periodically, we stood in the shade of lone acacia trees, whose green tops spread like umbrellas to provide shade and relief from the 90-degree temperatures.
To see greenery in such a place is stunning, considering that the annual rainfall is measured in millimeters, and two years of drought have robbed many areas of any rain at all. Still, it supports an impressive array of animals, including lions, black rhinos, giraffe, zebra, baboons and many types of antelopes, such as Oryx and springbok.
Since it gained independence in 1990, Namibia has become known for its wildlife, and the country's constitution requires the protection and preservation of wild animals and unique parcels of land.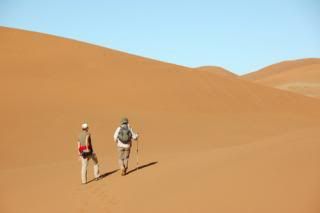 After hiking in the southern section of the Namib Desert, our group traveled west to one of Namibia's most popular protected areas, where sand dunes rise from the flat plain like mini mountains. We drove into the heart of Namib-Naukluft Park, home to some of the world's tallest sand dunes, including "Big Daddy," which tops out at 325 meters (1,066 feet).
They call this the Sossusvlei region. Roughly translated, Sossusvlei means dead-end marsh, and the term refers to large dried-up drainage basins that sit tucked among dunes. While these basins, also known as pans, are visually interesting, the real stars of the Sossusvlei are the dunes.
As one of Namibia's main attractions, the giant dunes draw all sorts of visitors. On the one hand, you have very active folks who carve their way down the sandy slopes on snowboards. But the place also attracts large groups of sightseers who arrive in hulking tour buses with enormous tires to conquer rough terrain. In Namib-Naukluft Park, four-wheel-drive roads will carry you to the base of many dunes, so the general public can get a close look or take a short scramble up one of the sandy mountains.
But, if you really want to experience the dunes, you should strike off into the heart of the park and hike for a few hours. Within a few minutes of our walk, we were enveloped by orange hills, and I felt as if I were wandering an alien world, maybe Tatooine from "Star Wars." And very soon, the sandy hills and deep bowls transformed in to a great sandbox for adults, as we bounded down the steep slopes, triggering small sand avalanches. Our guides noted that most groups don't actually take long hikes through the park, but it's definitely the way to go if you're in reasonable condition.
Of course, you do have to contend with the elements. With the sand piling up in our shoes, many of us decided to simply go barefoot, which felt just fine until about 10:30 a.m., when the sun climbed high and began to bake the sand. In the desert of Namibia, you not only deal with heat, but the fact that the sand contains a high concentration of magnetite, which appears as black streaks in the orange furrows. One of our guides actually rubbed a palm-sized magnet on the sand and it picked up a heavy coating of magnetite, which resembles iron filings.
As you can imagine, the Namib sand gets pretty toasty as sunlight heats the magnetite. After a pleasant morning walking barefoot, many of us eventually resembled members of a motivational group crossing hot coals.
Fortunately, we found the shaded side of the dune and stepped knee deep into much cooler sand. From there, I stuffed my feet back into my sand-packed shoes and looked ahead to our next challenge.
Just over the rise stood Big Daddy where we'd find a bird's eye view of the desert, and likely more surprises.
Traveler's Notebook
The guides at African Bikers are a great resource for details on visiting Namibia and Namib-Naukluft Park.
Contact:
4 Leeuwendal Crescent
8001 Cape Town, South Africa
phone: +27 21-488 3000
e-mail: reservations@africanbikers.com
Important note on gear: When hiking in the dunes, it's best to wear shoes that have little or no mesh at the forefoot to prevent sand from piling in. Consider low-cut shoes with minimum mesh or even a waterproof low-cut hiker (though this will be very warm in the desert). Also, you could wear a military-style desert boot.
About The Adventure Post
Veteran journalists Wendy Geister and Marcus Woolf launched The Adventure Post to share their passion for travel and outdoor adventure. They chronicle their journeys to inspire others to explore and provide insider tips that steer people toward richer travel experiences. The Adventure Post also includes contributions from other experienced travelers, as well as detailed gear reviews and reports on trends in outdoor recreation and adventure travel.